Upcycling - or "making new from old" means nothing more than converting and upgrading used and old objects and breathing new life into them. Old objects can be refurbished to a fairly high standard. All of this brings various benefits. So you can use old, already existing resources to meet your needs and reduce your CO2 emissions, which are required by the production of new, valuable resources. You can also ensure that your products were produced fairly because you can control and help shape the upcycling at every step.
It's a great opportunity to rebuild something yourself and to be able to let off steam a little with your hands. With an unusual idea and a creative ambience, your upcycling hotel has a unique selling point in the big competition and attracts many interested parties. Especially in recent times, the demand for sustainable gastronomy and hotels has increased enormously. However, the offer is still quite manageable. Guests remember such a unique hotel, whose furniture cannot be found in any other!
You can not only save valuable resources (e.g. water and energy consumption when making new furniture), but also a lot of money! Because upcycling can be super cheap. You can often find the right things at flea markets or at household sales and the like, although the price is definitely cheaper than buying these materials new. You are completely true to the motto "Sustainability through conscious consumption".
Another option is to not only build your hotel according to the motto of sustainability, but also to address topics such as mindfulness and health. There are of course no limits for you. You could offer different courses, e.g. a yoga course, a cooking course with a focus on healthy eating, etc. Another possibility would be to set up a workshop where crafters can help with your inventory, for example, or craft and build smaller things that they keep as souvenirs can take home. Hotels that have a certain offer for young and old are particularly interesting for families. Therefore, we have put together 6 ideas below for you to convert your hotel into the ultimate upcycling hotel.
1st idea: From the can to the lampshade
Old tin cans usually end up in the garbage after being used once. They are super versatile and can be perfectly upcycled. So you can use it as a lampshade, for example. It looks particularly cool if you drill different patterns into the cans with a drill, for example. Or you can paint them in bright colors and then use them as storage boxes, for example for pens or other decorative materials.
Another possibility would be if you have the cans painted in courses and then include them in your assortment. In this way, the individual guests can contribute their part to the decoration of the hotel.
2nd idea: The pallet sofa or pallet bed
One of the most well-known upcycling trends is the pallet sofa or pallet bed. Super easy and makes a very cozy look. For example, the lounge, the balcony or the terrace or the garden area can be equipped with pallet furniture. The good thing is that these are relatively sturdy and don't require major remodeling.
In addition, these are often available on various platforms as gifts! But pallets can also be used to build other great things. If there is to be a stage in your hotel, for example, pallets are a great substructure. If, on the other hand, there is a large garden, a bee hotel, for example, is a good idea.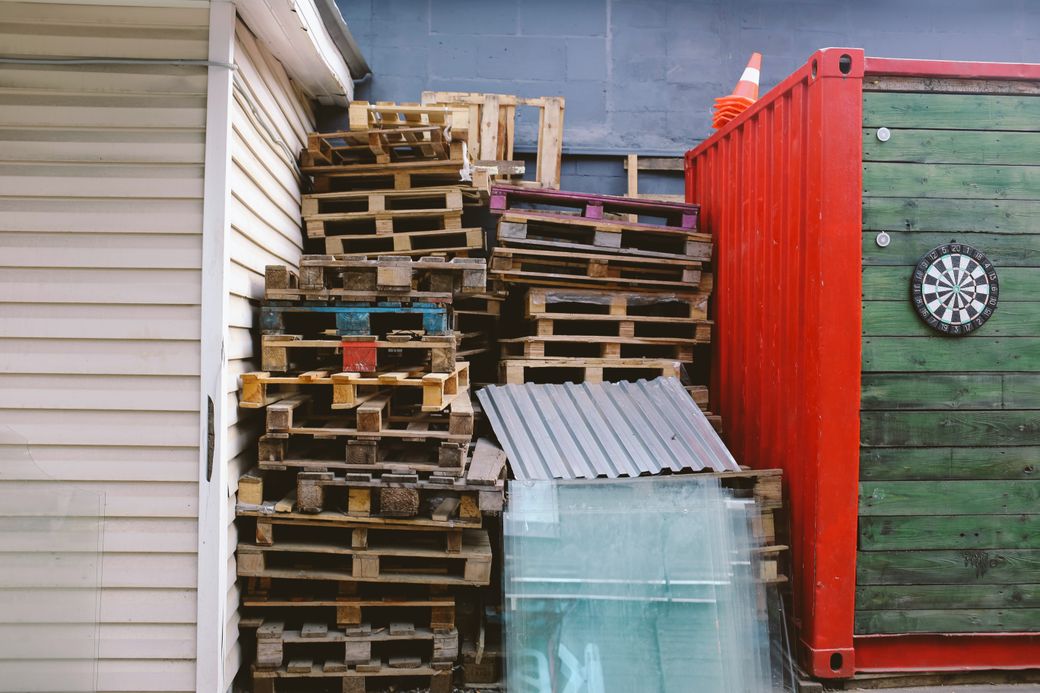 3rd idea: Jars, bottles & jams
Making lamps out of old bottles looks great especially with wine bottles/beer bottles, so mainly colorful bottles. However, upcycling pros don't just leave it at a bottle lamp, but use it, for example, as a chain of lights for the inner courtyard or garden in the evening. You can also make beautiful table decorations or vases from old jam jars. You can, for example, wrap colored ribbon around the middle of the glass or paint or spray it.
Our tip : So-called "glass paint" is best suited for this, which you can get in well-stocked hardware stores or, of course, online.
4th idea: from an oil barrel to an armchair
If you are still looking for an alternative to pallet sofas, you can try old barrels. To do this, you remove the lid and cut it to size so that the back and backrest remain and then comfortably pad the cut barrel! Of course there are no limits to your creativity.
And it doesn't necessarily have to be the barrel. A bench can also be built from an old snowboard board, for example. So you can offer different seating options.
5th idea: Use books as table legs
Who hasn't collected hundreds of old books on shelves? If these are already collecting and probably not being read again, then it is time to continue to use the books.
For example, you can build table legs from old books or shelves and bedside tables. To do this, you can simply attach the books to the wall with the help of brackets and a charging station for smartphones or an alarm clock, for example, can be placed there.
6th idea: Keeping clothes in a different way
In fact, almost anything can be upcycled. With a little creativity, your junk room can become a goldmine. For example, if you find an old bicycle that can no longer be used, you can make a coat rack/towel holder out of the individual parts. Or from old cutlery, you simply bend it in half and drill a hole in it and the next towels can be hung on it. If you find some old chairs, you can go one step further and use the chairs for stairs instead of shelves. This is how the Karls Hotel did it, for example, and has become a real eye-catcher. If you don't need a ladder, but do need shelves, old suitcases are great. Now all you need is a clothes rail? You can easily build them from old copper pipes.
In addition to the classic tips on how to run your hotel more sustainably, you will find here more tips.
Bonus: hygiene and sustainability?!
The question often arises as to how hygiene – especially in hotels – and sustainability can be combined. Small soap and shampoo cans that are put out anew for each person and laundry bags and daily towel cleaning do not initially speak for a more sustainable hotel management. Nevertheless, one does not necessarily want to make compromises in these areas. You don't necessarily have to. With a few small steps you can make your hotel a little more environmentally friendly in terms of hygiene.
---
There is a small rubbish bin in every hotel room, the rubbish of which often ends up in the residual waste. If you use plastic bags for this, you burn huge amounts of fossil raw materials. With our #IAMPLASTICFREE bags, we have a top alternative to plastic garbage bags for you, as they are made from biological waste and therefore do not use plastic at all. In our sample pack you can convince yourself of the film in different strengths and hopefully soon run your hotel a little less plastic.
---
Which brings us to the second point. Your guests' towels don't necessarily need to be washed every day. Let people decide for themselves when to wash the towel. By a short introduction, towel on the floor/ in a certain corner, that means the towel should be washed and the guests want a fresh one. Once it is on the hook, it can continue to be used without any problems. This also saves you water and washing costs.
In addition, small soap and shower bottles can be replaced with unpackaged, solid soap or with reusable and refillable bottles. This way you can save a lot of plastic waste.
Here's another idea: soap dispensers can be screwed on from old bottles with screw caps. So you can also provide a cool upcycling product in the bathroom!