Dishwashing brush, to-go boxes and straws – are you still all made of plastic? From now on no more! Okay, very few people will become plastic-free overnight, but it doesn't have to be. With the "Less Waste" lifestyle, you are gradually banning plastic from your everyday life, without making any sacrifices.
Hard fact: We Germans produce almost 300,000 tons of waste from disposable plastic tableware and take-away packaging every year. It doesn't just sound like a lot, it is! Fortunately comes 2021 the ban on the production of single-use plastic in the EU. But until then there is still some time in which we can act ourselves. The path to a sustainable future is not that difficult, sometimes the solution is closer than you think. With our tips you can easily become a bit more plastic-free bit by bit and that will not only please the environment, but also your guests!
1. Plastic-free drinks
What works with food also works with drinks, even at the seat. Everyone loves a drink, whether it's on the terrace in the summer or in the comfort of the interior of their favorite place in the cold season. However, cocktails in particular are veritable piles of plastic: a skewer here, a straw there – environmentally friendly looks different. But there are also alternatives for alcoholic drinking pleasure. Of course, the guest can still express the wish to enjoy the drink without the drinking straw, but if you are honest, the cult drink unfortunately also loses some of its style.
We think: if skewers, then at least made of wood and if straws, then rely on alternatives! There are different models, which can be a suitable solution for the classic plastic straws, depending on the occasion and budget. We have the various alternatives here examined more closely for you. Our test winner: The #IAMPLASTICFREE straw from wood, sugar and glucose. Not only do you show your guests clearly that Less Waste is important to you, but you also give them the opportunity to share your thoughts via social media. But no matter which variant you choose, simply give up single-use plastic and let your guests enjoy delicious drinks with a clear conscience in the future!
Our tip: Do you want to take the next step and make your bar even more plastic-free? Then read here more about our tips for plastic-free cocktails & more sustainability behind the bar.
---
---
2. Plastic-free in the kitchen
The kitchen is probably a stronghold in the plastic paradise in private households and in restaurants. Here, dishwashing brushes and wooden spoons cavort on plastic hooks over the cutting board and kitchen roll - which comes in a not too tight plastic packaging.
Our tip: Kitchen gadgets for soup & co can be replaced by sustainable alternatives made of stainless steel, wood and bamboo.
Dishwashing brushes made of plastic are particularly popular, although the alternatives have a lot more to offer: the brush heads can be easily replaced on most models, so that less waste is produced than with a plastic brush, even despite heavy wear. To protect your brush made of wood or bamboo, you can simply hang it up or stand it up to protect the handles made of the sensitive material. Thanks to the wax coating on the wooden brushes, you don't have to worry about rapid wear and tear if they are dried properly.
There are also two sustainable alternatives when it comes to cutting boards: boards made of wood, in contrast to the plastic version, have an antibacterial effect and made of water-repellent cork they can even protect knives and wrists - a real miracle weapon, completely without plastic.
Hand on heart: How often do you reach for the kitchen roll every day? For small coffee stains or large traces of sauce, these practical all-purpose cloths come to the rescue in many situations. But anyone who uses them privately knows that one pack often doesn't last long, depending on the size of the household. You don't even want to imagine how short the useful life in gastronomy might be. The solution here is washable and therefore reusable kitchen towels made of microfiber or bamboo paper. When using them for the first time, you can tear off the bamboo towels piece by piece like a classic kitchen roll and simply fold them up and store them in the drawer after washing. Plastic-free kitchenware does exist, so it's time to find the right one for you.
If you want to go a little further in the direction of "plastic-free hospitality", you can also bring more sustainability into the bathroom or into shopping. How you drive the green revolution in gastronomy or in the hotel, you can read here .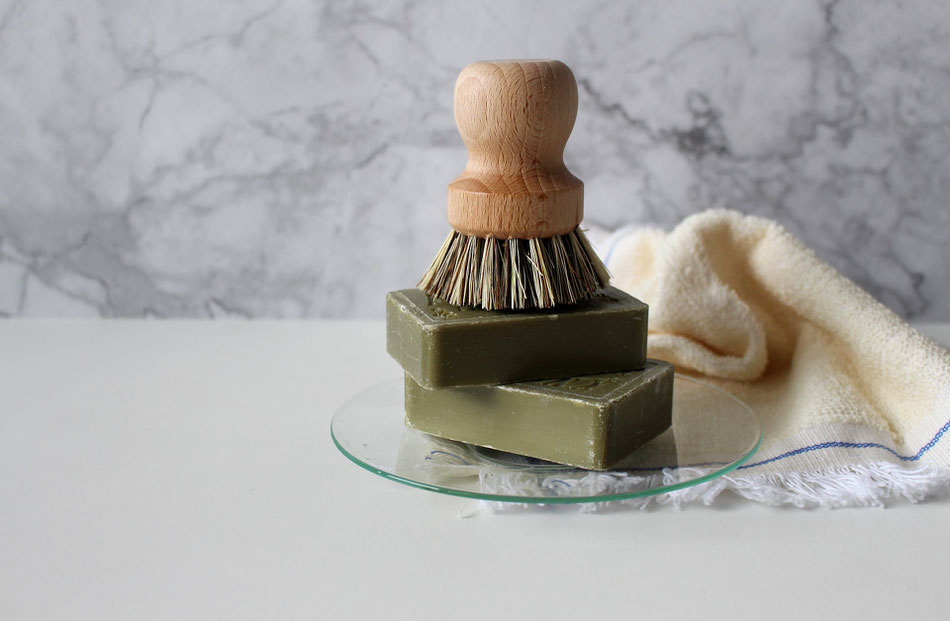 3. Pack plastic-free and freeze plastic-free
If food is left over or open food needs to be stored, cling film or aluminum foil is the obvious choice. But even here there are some practical alternatives! The most well-known of these makes use of the robust properties of beeswax: Beeswax towels have been in vogue for a number of years, which is probably also due to their incomparable variety of designs. Well wrapped, bread and cheese stay fresh for several weeks. Bowls and casserole dishes can also be covered with oilcloth. Alternatively, the bakery bags can be reused a few times for bread and rolls. The bread should be taken out of the bag for defrosting so that it doesn't get soggy. If you want to go one step further, you can put your baked goods straight into a clean cotton bag. Special bread bags that can be easily closed with a ribbon are even better.
An idea for smaller foods such as herbs or sauces are ice cream molds made of stainless steel. In them, the food can be placed in portions in the refrigerator, making them a real insider tip among the plastic-free freezing methods. If you don't want to do without freezing in cans, alternatives made of glass or stainless steel are a good method. These are available in practically all possible sizes and are suitable for pesto leftovers as well as for whole casseroles and cakes.
If you also want to save money at the same time, simply use preserving jars such as those used for pickles or jam. With soups and the like, you should only fill the glass two-thirds full, as the liquid expands when it freezes and otherwise the glass can burst. It is best to freeze meat already prepared or in a very airtight container. Fruit and vegetables that you have dried well beforehand fit perfectly in glasses with a larger rim. From now on you can safely do without plastic the next time you freeze your food.
This not only saves you money and plastic, but also reduces food waste. If you ever have rubbish, you will find it Here is an overview of the correct waste separation .
4. Plastic-free organic waste
If you want to buy fruit and vegetables in the supermarket, you risk a mountain of plastic that feels higher than the entire raw food purchase. When it comes to deliveries, apples and the like are often packed in plastic and plastic trays. While fresh food nets can simply be used for private purchases today, they are of course impractical for deliveries from wholesalers. Alternatively, you can rely on retailers who deliver in reusable boxes and also use at least reusable plastic packaging with a deposit system for milk and the like. This is not plastic-free, but it already makes the difference!
Organic waste in plastic bags? This not only contradicts itself, but also simply makes no sense. But there are alternatives here too.
A very simple solution: You can do without! You can easily collect the organic waste in a stainless steel or ceramic bucket. Rinse once after emptying and you can easily save a sack a day. All those who do not want to do without garbage bags can also use degradable bags made from biogenic waste materials such as cassava starch. For their production, the energy from plants that are not suitable for consumption is used. The bags come close to the classic plastic bags in terms of their nature and thus prove to be a good alternative for everyday use. If interested you can here is a sample pack of ours Request #IAMPLASTICFREE Bags, which can also be used as garbage bags.
If you are generally looking for plastic-free alternatives to conventional bags, we have them here listed some options for you.
5. Plastic-free breakfast
A typical German breakfast is simply a real bouquet of delicacies. Sausage, cheese, eggs, but also various sweet sins should not be missing on bread and rolls. It's no wonder that breakfast and brunch offerings in cafés and restaurants are also booming. Especially jam, honey and nut nougat cream are often packed in small packages on the buffet or in the table basket - after all, it's super practical. Unfortunately, the boxes are true environmental sins, but fortunately they can be easily replaced.
The keyword here is: self-service. Whether you use edible bowls with a waffle-like taste or glass bowls is up to you. It is also worth thinking about a solution for operation at the seat. Because even if there are acquisition costs associated with this variant, you still save: Large glasses usually cost much less than many small packs and the guest can take as much (or as little) as he wants. In this way you not only reduce the consumption of plastic, but also simply avoid unnecessary food waste.
It is just as easy for coffee drinkers to make their beloved milk as it is to spread. When ordering, ask the guest whether they would like milk with their coffee or tea and, if so, how much. In no time at all, you can exchange the plastic bomb of coffee cream for a stylish alternative made of stainless steel or porcelain, for example. For the daily to-go business, milk can be available in cooling jugs for self-service and you can also switch to more sustainable wooden spoons for the stirrers. However, it is probably only a matter of time before other ecological alternatives replace them.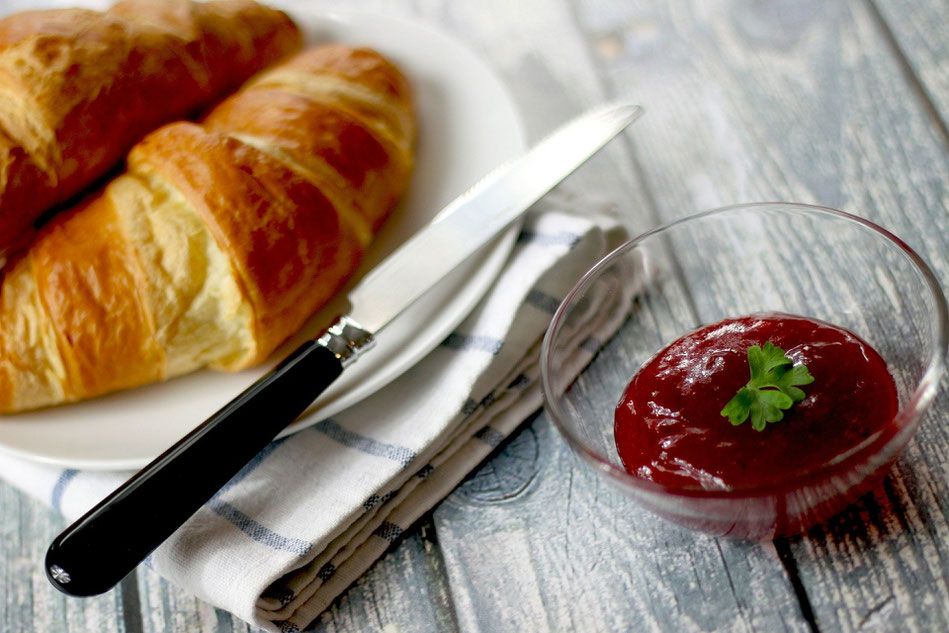 6. Plastic-free on out-of-home orders
Unfortunately, everything that is consumed outside the home quickly ends up in plastic packaging, albeit without bad intentions. Whether it's a large salad box or a disposable coffee cup with a plastic lid - it has to be quick, cheap and of course the customer wants to enjoy the dish knowing that it is subject to a certain standard of hygiene. Plastic seems to be the most obvious solution. But here, too, there have been numerous alternatives in gastronomy for several years. Models made of environmentally friendly materials such as biogenic waste and recycled cardboard boxes already exist for large packaging. Such methods are already being used for disposable cutlery. From 2021, many single-use products are to be banned. You can find out here which articles are affected and how you can already do without superfluous packaging.
However, deposit systems that do not require disposables are very popular today: some restaurants offer packaging for a deposit, which the customer can return after a certain period of time. Alternatively, you can also bring your own container into which the prepared dish is then filled. Of course, this also applies to the popular hot drinks to-go, although today you can find sustainable thermal mugs made of different materials on the market. Finding out about the hygiene conditions here is therefore worthwhile for the environment. Unpackaged is not only possible in the organic shop, but also in the restaurant around the corner.
Avoiding petroleum-based plastic is not that difficult
The plastic-free squirrel feeds itself with difficulty! And even if you don't ban all plastic from the kitchen and tables right away, every step can bring success. There are so many areas in which you can go. Whether it's in the kitchen, shopping or out-of-home sales, now is the right time to pay a visit to the alternative market and reduce plastic consumption a bit.
Are you still afraid of costs and effort from the first steps? Just start and try! There is no right or wrong, what suits one does not necessarily apply to the other. In everyday gastronomy there are a few small plastic construction sites that you can easily file, with our tips you can reduce your plastic consumption almost in passing!