All of Germany loves the festival season! Celebrate for three days, camping, flunkyball and lots of music! Just leave everyday life behind. The interest in festival tickets is constantly increasing and one new festival after the other is establishing itself in Germany.
It is important to have a unique and sophisticated concept for the design. Above all, there is one aspect that is often ignored in planning and organization and that should receive significantly more attention from managers: sustainability and environmental protection!
Because a big problem after the festivals is the garbage that is left behind. On average, 15 kilograms of rubbish are left behind per person after a festival! For the festival organizers, this means above all: cleaning for weeks! This is made even more difficult not only by the quantity, but also by the uneven terrain and the mixture of rubbish. So the final cleaning can easily take several weeks and be quite expensive!
So that you can save a lot of waste and personnel costs at your next festival, we have put together a few tips for avoiding and reducing waste here.
planning and construction
In order to make a festival sustainable, you should start with the planning and construction of the site. For example, enormous amounts of CO2 can be saved by switching to electricity from renewable energies. Another option is to work with solar energy. Since most festivals take place in the summer when the sun is shining, you could run the evening lighting of your site entirely with solar energy. You can also use LED energy-saving lamps and save a lot of money!
Recycled or natural materials can be used to set up the stages and decorate the site. The platforms can be set up using pallets and scrap wood, for example. This is also significantly cheaper.
There are also ways of doing without chemical toilets in the sanitary facilities, for example with vacuum toilets that use less water. If the general conditions allow, portable toilets can also be connected to the sewage system.
At some festivals there are already "Green Camping" zones, where special attention is paid to waste consumption and less noise should be caused. You can turn this into a challenge: For example, whoever leaves the cleanest campsite wins a prize. There is also a "Green'n'Clean Award" from the Green Operations Group Europe if your festival meets their guidelines!
home page
In order to effectively save waste and do something good for our environment, good preparation is required.
This starts by encouraging your visitors to visit the festival more sustainably. Draw attention to your sustainability concept on your homepage and ask people to participate and support you so that the festival site does not look like a battlefield afterwards.
Encourage your visitors to refrain from bulky objects such as sofas and furniture. Most of the time, after a long weekend with little sleep on Sunday morning, they no longer feel like taking these items with them and you have to take care of disposal. This can sometimes be quite expensive.
Another useful feature on your homepage would be a forum where visitors can exchange information. You might find a few sustainability experts who would like to share their tips. It would also be possible to compile a packing list for you to download. At the end we will tell you what should not be missing.
A plastic-free festival can only be implemented if both the organizers and the visitors make sure that waste is avoided.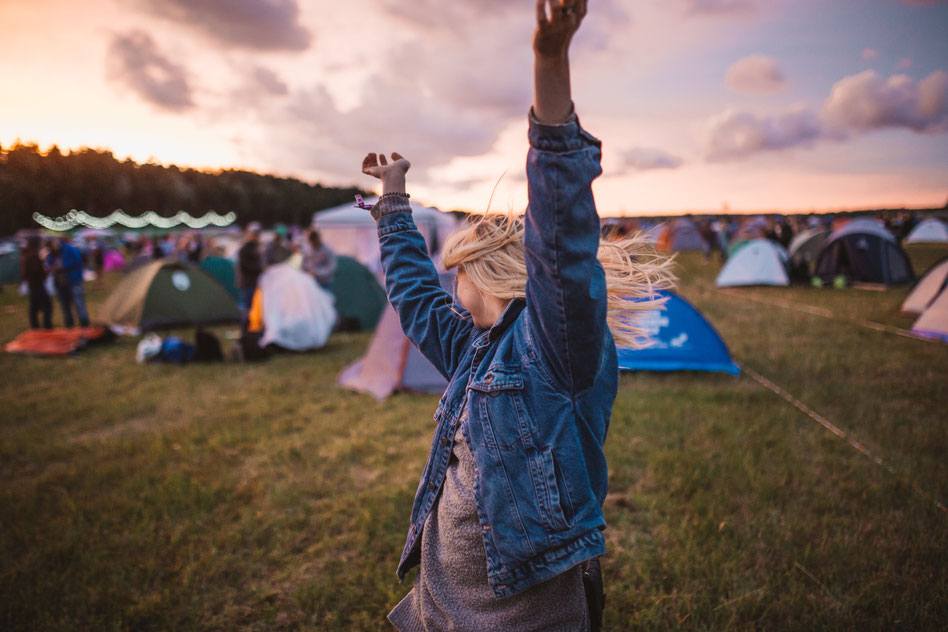 transport
Next up is transportation. Every group that does not come by car is a relief for nature. Also: Not too much stuff can be taken with buses and trains and visitors might think twice about what they really need and what they don't. In this way, unnecessary waste could be avoided again and there will probably be fewer sofas or refrigerators after the festival.
For example, it would be helpful if there was a shuttle bus to your site from the nearest large train station. In order to support bus and train transport, you could create incentives for them to be used, for example through higher parking fees or the like. It would make sense if you advertised it properly on your homepage.
There is also the possibility of setting up a forum for car pools there, so that there may be fewer cars driving to the festival site overall. You could also organize special trains or long-distance buses. Super relaxed and, above all, safer, since no one has to drive a car hungover or dog-tired. So the last evening can be celebrated extensively again.
There are even some festivals in Germany that offer special trains with couchette compartments. This stays on the site for the duration of the festival so that visitors can stay overnight. According to their own statements, the organizers halved their CO2 footprint compared to traveling by car. In addition, the ghost tents, abandoned tents, can be counteracted in this way.
Garbage
One aspect that should not be neglected is single-use plastic. With your own drinking cups, plates and cutlery you can reduce this extremely. Write that down on the packing list! If someone should forget, you could still offer sustainable reusable solutions at a stand, maybe even with a printed logo. You could also offer these in an online shop on the website, so that you can calculate better with pre-orders. Since you can't switch to sustainable variants for certain things, try to find the most environmentally friendly variant here. For example, our #IAMPLASTICFREE are excellent  drinking straws at. These are made of wood, sugar and glucose and are in no way inferior to plastic straws. You can find more advantages of our straws here .
---
---
A garbage deposit system has also proven to be very useful and necessary. In addition, a garbage deposit of 5-15€ is added to the ticket. At the entrance there are garbage bags for each person. If these are returned in full at the end of the festival, the deposit will be returned! In this way you create an incentive for visitors to dispose of their rubbish immediately. In general, you should place generous rubbish bins throughout the site. It is practical if this is divided into plastic, paper and residual waste, so that the waste can be better recycled. It would also be good to have glass containers on the premises. You can find out why proper recycling is so important here . Also make sure your garbage systems are emptied regularly.
Viva con Agua has also dedicated itself to the garbage problem at festivals and would like to help make festivals greener. To this end, they have started various campaigns, such as throwing the deposit cup cans. In this way they ensure that there are fewer cups lying around and with the deposit collected they support water projects worldwide.
Our tip : Hand out pocket ashtrays to bars and the like so that all the cigarette butts don't end up on the floor. You can put your logo on them again!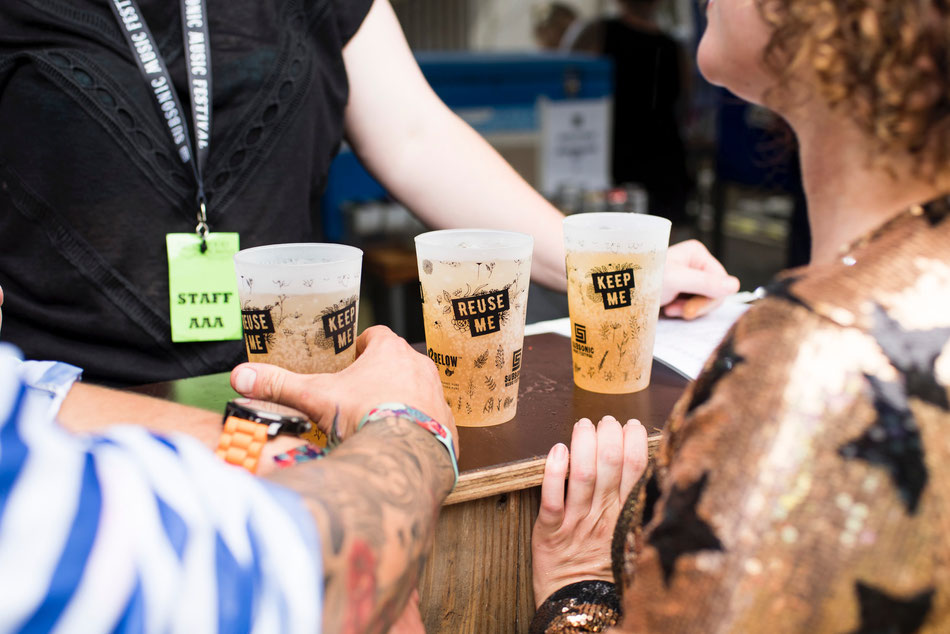 care
A very decisive waste factor is the supply. By offering reusable options, a lot of waste can be saved. The same applies here: Create an incentive for visitors to use this option. If you don't have your own mug, plate, etc. with you, you should still have the choice of reusable dishes with a deposit system for the food trucks . In this way you ensure that the dishes are brought back or collected and redeemed by others. One option would be, for example, to give a discount if you bring your own containers and, conversely, disposable items are sanctioned. If it should be to-go, you can pack the food in our #IAMPLASTICFREE bags , for example, so plastic is saved here.
Our tip : For mugs with handles, you can tie a ribbon and put the mug around your neck as soon as it is empty. Then it doesn't have to be held all the time and makes the whole thing a little less complicated.
With food trucks, you can also make sure that they use regional and seasonal foods. Leftover products can then be donated to organizations in need.
A typical cliché about festivals is that they only have canned food for five days. These are often left over and are simply left on the campsites. This not only creates garbage, but also a large amount of food waste.
A great idea to counteract this waste and to make the luggage a lot lighter again is to integrate a supermarket on the festival site. This does not have to contain the complete range, but can be more like a corner shop. It would be great if you could get a lot of things unpackaged and thus reduce plastic waste again.
To do something about all the packaging, solid shampoo and shower soap can also be included in the range. Another highlight is plastic-free and vegan glitter, because glitter should not be missing at any festival. In addition, thousands of water bottles can be saved by having water dispensers on the premises!
Advertise it properly on your website so people don't arrive with dozens of cans beforehand. Feel free to draw their attention to food waste and promote your supermarket.
---
---
workshops
If there is more packaging than you hoped for, there is the possibility of offering workshops. A topic could be, for example, "recycling and upcycling".
In the workshops you can start cool projects from old plastic waste and thus create more awareness for today's consumption. In this way you can directly recycle the waste generated and give the otherwise short-lived plastic products a second life. Or you could offer workshops where you learn to do without more plastic in everyday life, for example you can make your own beeswax towels as a substitute for cling film. There are no limits to your creativity in these workshops.
The festival is over and still some tents, sleeping pads and sleeping bags have been left behind? Then don't throw them away, but contact organizations like Hanseatic Help. This organization was founded to collect leftover tents and the like from the festival grounds and then clean and process them. When they have done this, they distribute the things to the needy and give the leftovers a second life.
If, despite the supermarket, there are still plenty of canned goods left over, it makes sense to set up a canning station. After the festival, visitors can lighten their luggage and the collected cans can be donated to charities, for example, or to the nearest food bank.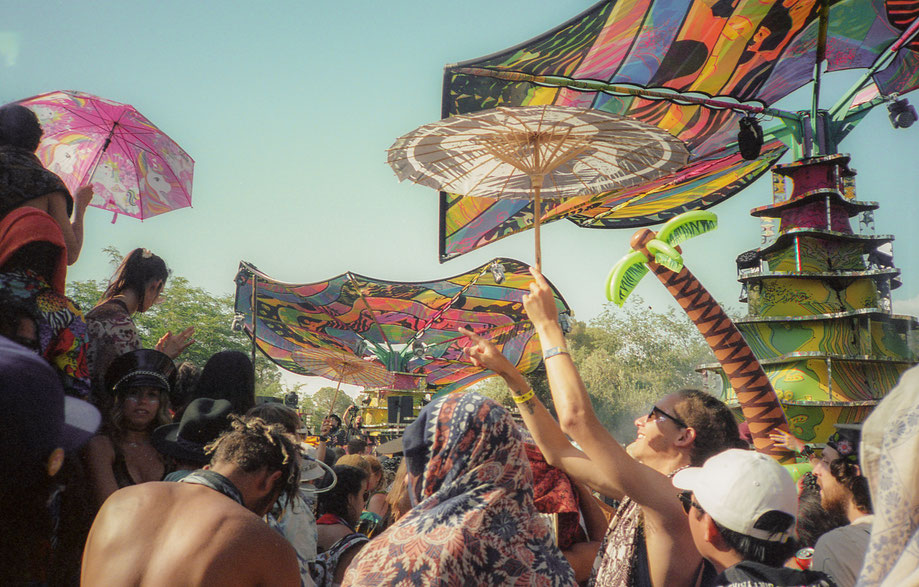 Summary
So there are different ways to make your festival greener!
Green electricity, recycled / natural materials for stage construction and decoration
LED energy-saving lamps / solar-powered fairy lights
vacuum toilets
Green Camping Zones / Green'n'Clean Award
Awareness via homepage, online shop and forum → Packing list for download
Advertise for bus and train, long-distance buses from nearby train stations
Carpooling opportunities and special trains with couchette compartments
Own drinking cups, plates and cutlery
regional organic food trucks with reusable options
water dispenser
Waste deposit system and waste systems on the festival site
pocket ashtray
Own supermarket with #IAMPLASTICFREE bags , unpackaged cosmetics
Workshops with upcycling options
Organizations and projects worth supporting:
Viva con Agua , Collect deposit and donate it to water projects worldwide
The food bank takes leftover groceries and preserves and distributes them to those in need
Hanseatic-Help collects and distributes remaining tents, sleeping bags and insulating mats
---