Whether in a car or rather with a tent: Camping is becoming increasingly popular. No wonder, after all, balmy summer evenings with friends on worn-out fishing chairs are pure freedom for the third generation. Add a cool drink, the smell of grilled food and the summer season has begun. And even when having breakfast on your own pitch, nobody has to worry about the risk of infection and the minimum distance.
Cart full, card out and off we go home - disposable grill, dry shampoo from a can and lots of water bottles in our luggage. Consistent? looks different And that despite the fact that spending the night under the open sky is virtually predestined for an ecologically valuable trip.
With the following tricks, you will not only save unnecessary waste on your next adventure in the wilderness or on the campsite, you will also be easy on your wallet.
---
---
1. Pack only the essentials
Sustainable travel is also called "gentle tourism" in specialist circles. Gentle, because protecting nature and being mindful of it are on the agenda. In the meantime, not only travelers but also gastronomy and hotels have started a small green revolution. You can find out which ideas still belong to sustainable tourism read here .
So why not make your own backpack a little lighter? After all, with every kilo more in your car, the fuel consumption also increases. The keyword here is definitely: preparation. So, check the weather report and take a (!) part with you for all eventualities that are indicated. Once again, less is more here, after all you're going into nature and it's okay to wear the same T-shirt three days in a row. And even if you have decided on the safe campsite, you can confidently switch down a glamor level and leave unnecessary ballast at home.
If the classic travel map takes up too much space (and travel budget), simply use your smartphone and download an offline map for the route. It may not be that stylish, but it will still get you where you want to go. If you are a real bookworm, buying an e-book reader can also be worthwhile in the long term, although of course there is nothing wrong with second-hand books from old telephone booths or exchanged with friends.
2. Take away and store food without plastic
In any case, the supply when camping has an absolute waste potential. As a destination, nature should not suffer from the trip, but should be respected and protected. This is difficult to reconcile with careless consumption. Fortunately, you can save a lot of waste when eating: fresh cooking, preferably in stainless steel pots, is not only good for the environment, but also clearly the healthier alternative to canned ravioli and pasta in the box. Tips on how to avoid unnecessary packaging for food and drinks you can find here.
As with packing your trunk, the same applies here: Preparation is the key to lasting success! Buy dry basics like pasta, rice, quinoa or couscous beforehand, after all, they're half the battle when it comes to eating. If you were in the bulk shop, you can take the products with you in the cans or bags from the grocery store. And you can also put muesli and small snacks back in the good old mason jar. Plus point: If the containers are empty, you can refill them on the go.
For everything else and also for hiking trips, you can use cans made of stainless steel or wheat straw, for example. In some markets and restaurants you can even have products filled directly into them, so just ask when you visit the cheese or meat counter. Oilcloths and bread bags instead of aluminum foil are a space-saving alternative to cans. Speaking of aluminium: Unfortunately, single-use grills made of aluminum are anything but sustainable. For the outdoor barbecue, you should therefore rather look out for public places - leaving in a reasonable condition is of course a matter of course here. Also tried traveling to the correct waste separation to respect. Many campsites have special bins for the correct disposal of charcoal and glass.
Take enough of your own cutlery and crockery with you or equip yourself with light alternatives, for example made of bamboo. Cloth napkins avoid a confusing consumption of paper towels. Of course, a good chopping board should not be missing when travelling, after all, the vegetables also want to be chopped. Cork or wood are good and environmentally friendly solutions here.
3. Plastic-free drinking while camping
Drinks don't have to fall victim to the garbage spirit either. Thermos bottles made of stainless steel are a robust and sustainable option for environmentally friendly drinking pleasure and reusable cups not only keep coffee and tea warm, but also significantly reduce your plastic consumption. You can enjoy almost any drink from the cups in an uncomplicated and sustainable manner and the bottles are also happy to keep cool spritzers cold for a while on a hiking trip. On the subject of coffee: Here the most environmentally friendly alternative to the to-go solution is clearly a French press. We can say from our own experience that it not only brings style to your breakfast on the outside, but also allows the aroma of good coffee to come into its own.
In Germany you can of course drink the water from the tap without hesitation. If the lime content in certain regions is too high or if you are even traveling abroad, you can use water filters. When making a purchase, it is best to get advice on the strength of the filtering in a specialist shop to be on the safe side. If you plan to stay in one wilderness spot for several days, buy your drinking water in recyclable canisters. So you can safely forget about plastic bottles.
In addition, the voluntary system "Refill" has been established in Germany for several years: restaurants, shops and other companies make their tap water available free of charge to combat the high consumption of plastic. Perhaps one of the many stations is also on your route? You can recognize them by a blue sticker on the door.
---
---
4. Sustainable shopping when camping
If you can't avoid shopping during your trip, then a freshness net and cloth bag should not be missing here either. With this you can easily make your purchase plastic-free. If possible, buy regional and seasonal products in shops, at the weekly market or on the campsite, then your food will also be even more sustainable (and tastier) afterwards, because the cultivation of the products saves a lot of CO2.
Tip: Before you go shopping, think about what you really need. We tend to throw away food that no longer looks perfect on the outside. Grilling stale bread, a smoothie from overripe bananas or a delicious white wine sauce from stale drops? Camping is perfect for getting creative with leftovers! When cooking, always think about whether it really has to be the complex sauce with the long list of ingredients, or whether a simpler version would do (planning in advance also saves space in the car).
5. Wash dishes and do laundry without plastic
Liquids are not exactly light luggage. Reason enough, then, to think about alternatives when it comes to cleaning dishes and laundry. In any case, the following applies here: you don't have to buy everything you have with you on the go. So here, too, we are happy to use mason jars or other containers that save space. If you want it to be very sustainable, you can make your own detergent and washing powder. Biodegradable alternatives can also be a solution for anyone who doesn't want to rely on the vinegar-baking powder combination. In addition, you should use organic certified detergents that do not contain any toxic substances or microplastics put into the environment.
Dishwashing brushes made of wood or bamboo are not only suitable in your own kitchen , but are also super practical when travelling. Cloths made of cloth for washing dishes (you can also easily sew them yourself!) simply replace sponges that end up in the trash can after a while. Take one or two tea towels with you and you won't even be tempted to resort to disposable items when cleaning and washing up.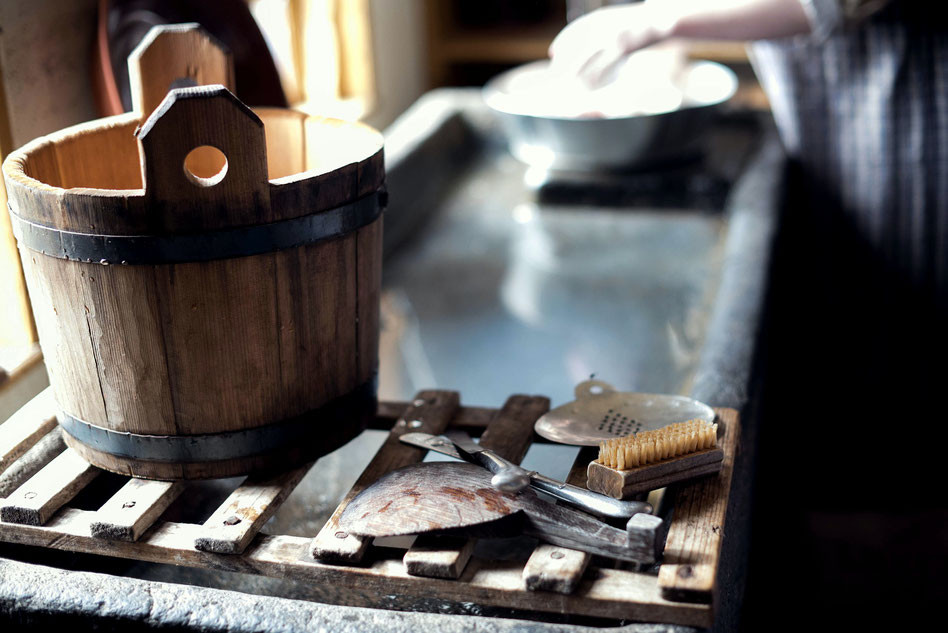 6. Ecological body care and sustainable toileting
Care products probably take up most of the space in your luggage. Sustainable alternatives such as curd soap, solid shampoo or hair soap from drugstores and bulk shops are available here, preferably packaged in stainless steel or wood. If you are not quite so keen to try things out, you can also refill the travel sizes from the last trip, so you don't have to buy new bottles. And dry shampoo can also be easily and sustainably replaced - for example with flour.
There are a number of alternatives to conventional spray deodorants today: Deodorant in jars in particular can be found more and more on store shelves and in drugstores. If you want, you can also prepare the solution against body odor yourself before the journey. For dental care, brushes made of bamboo and tooth powder or tablets are ideal, which can also save ballast at the same time.
As already mentioned, the styling can be left out when camping. If you still don't want to do without removing your make-up in the evening or cleaning your face with a cloth, you can use microfibre pads. They can also be quickly cleaned with soap and water on the go and then washed through in the machine at home. If you do have conventional care products with you, then make sure that they are environmentally friendly and do not contain any microplastics that you bring into the cycle when washing or showering. Here, too, the range in drugstores is large and not much more expensive than comparable products.
When going to the toilet in your own camping vehicle, the professional disposal of waste water and gray water should of course be a matter of course. If you are completely out in nature, then you should also do your business sustainably. So, dig a hole and close it again afterwards. Please take toilet paper with you and dispose of it later.
7. Correct waste separation when camping
Here, too, a distinction must be made as to whether you have settled down in nature all alone with your car or at a campsite. Of course, if you preferred the wilderness, then the waste is 100% your business. Proper waste separation is therefore the be-all and end-all - at least residual waste and packaging should have their own bag. You can then dispose of it at a rest area or campsite along the route. If the place of arrival is not yet properly equipped (yes, unfortunately there are some of those too), then dispose of your rubbish properly at home.
As already indicated, separating waste is not necessarily made easy for holidaymakers on campsites. Separate bins or containers are not a matter of course and waste separation is often an unnecessary annoyance. Here, too, your own bags can work wonders: at least you can dispose of recyclable packaging at best during a walk in nearby containers. Do you really want to camp in one place, but at the same time you value environmental protection? Then look for sustainable campsites! They have made it their mission to conserve resources and combine holidays with the balance of nature, so separating waste has top priority on these sites. By the way, fresh organic goods are also available in the shop without having to pay more for the space!
How easy is it to reduce waste while camping?
Easier than you think with the right preparation. If you give some thought to how you want to spend the next few days before your trip, you can save a lot of (plastic) waste. Of course, you don't have to limit yourself, so check again individually which alternatives suit you - every small step makes your holiday more sustainable!
Incidentally, the space for clothes, food packaging and tubes from the bathroom could then be reserved for your bike, with which you can explore the area around your campsite in an even more environmentally friendly way. So: try, study and make your camping trip a gentle (and regional) dream holiday this year.